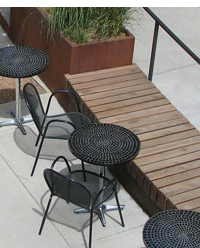 Luna is Santa Fe's first walkable mixed-use green community.
Located two blocks from everything on Route 66 at the gateway to downtown Santa Fe, Luna offers restaurant, retail, office and loft spaces. Originally a DeSoto dealership, and later a movie theater and night club, two 1930's era Streamline Moderne style buildings have been remodeled into an exciting community.
A vibrant courtyard features outdoor dining, and a chance to browse & relax in SF's city center.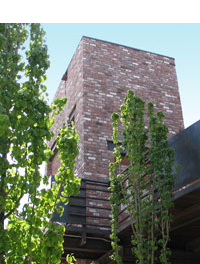 Anchored by CHOMP, a fine food and dry goods market, Ohori's Coffee, New Mexico Hard Cider Taproom, Escape Santa Fe (Santa Fe's first escape room) and other fine merchants and businesses, there is always plenty of activity and excitement!
In addition to parking at Luna Santa Fe, easy public parking is also available only one block away, in the State Legislature's garage on the corner of Galisteo and Manhattan Streets.
The first phase has only two spaces remaining, and a second phase will feature fractional ownership and full time residential condominiums.
Luna is a MCMOJO, LLC endeavor. Its Principal, Ken Joseph grew up in Santa Fe, and is the president and qualifying broker. Ken has developed four office parks in Santa Fe and Denver.
Contact us at (505) 660-5146 to learn more today!